Save the Environment - Mail Your Shoes to Paris
By Judi McLeod
CanadaFreePress.com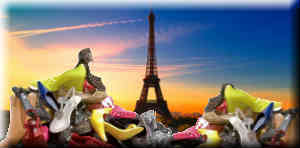 The 'Biggest Show on Earth' is now underway in still grief-stricken Paris, where the melodrama and hypocrisy on display is enough to gag a blue whale.
Putting your concerns about global warming on public display is as the flappers used to say, "all the rage".
Now that Pope Francis has fully sanctioned Barack Obama's claim that global warming is a bigger threat to humanity than Islamic terrorism, Obama's "WOOHOO" can be heard in even the tiniest corners of the soon-to-be-in-meltdown world.
For the poor people in some of those corners who couldn't make it to Paris by jet, bicycle or foot, generous bigwigs sent their shoes, shouldering the cost of postage themselves—including Pope Francis.
"Hundreds of pairs of shoes were left on Place de la Republique to remember those left frustrated in their plans to march. (BBC, Nov. 29. 2015)
"Among them were a pair donated by Pope Francis, who has called for urgent action on climate change."
Dry your tears, impoverished citizens of the world forced to stay away by penury—a pontiff's shoes will represent you in proxy!
Never mind that our Savior walked in sandals and ministered to his own.
For those who can't fathom what the Paris summit is all about:
"COP 21 - the 21st session of the Conference of the Parties - will see more than 190 nations gather in Paris to discuss a possible new global agreement on climate change, aimed at reducing greenhouse gas emissions to avoid the threat of dangerous warming due to human activities. (BBC)
We all complain about the weather, but only by talking about it on public transit, in neighbourhood bars and mostly these days—in church., and and now Obama, Francis and the gang are promising to something about.
They can't send the rain back into the skies overhead, or send Mother Nature to Anger Management classes, but they can force carbon taxes on any corporations still up and running.
Activists want action at the Paris talks to limit the rise in the average global temperature to 2C (3.6F) above pre-industrial levels, and sent out eco-activists sporting angel wings and others carrying wind turbines to "get 'er done".
The satanic grins on the eco-angels should frighten off any pontiff whose heart's in the right place when it comes to God's creation which Mother Earth, for all of her ignored pollution, really is.
According to one campaign group while in Paris itself, more than 200 demonstrators were arrested when their 'peaceful' protesters turned to throwing rocks at police, more than 570,000 protesters took part in marches worldwide.
What about those still grieving victims of the Nov. 13 terrorist attacks of a little more than two weeks ago?
"Earlier, a human chain was formed by hundreds linking arms in the French capital along the route of a march that was called off after the 13 November attacks that killed 130 people. (BBC)

"A gap in the chain was left in front of the Bataclan concert hall, where 89 people were killed.

"President Francois Hollande said it was "scandalous" that the clashes happened "where flowers and candles have been left in memory of those who were killed by the terrorists' bullets".

"He added that the clashes had "nothing to do with those who protect the environment".
Hollande's surprised that clashes happened "where flowers and candles have been left in memory of those who were killed the terrorists' bullets"?
"Many of those involved in the clashes wore masks or covered their faces. Candles from a makeshift memorial in the square were thrown at police." (BBC)
Street theatre just wouldn't be street theatre if the protesters couldn't hide their faces behind masks.
Like in any television melodrama, the bad guys always know what to say when caught in the act.
"Some of the demonstrators in Place de la Republique in Paris were apparently protesting against France's state of emergency, and have been disowned by the main organisers."
Right.
Meanwhile, is the world going crazy before our very eyes in the City of Lights?
Yes, but if you say the UN's COP21 is crazy, its Marxist promoters will turn around and pin the "crazy" tag on you.